Hello LHS families, Please be aware that this Friday is a scheduled parent teacher conference day for the high school only. This does mean no school for students. You're encouraged to schedule a time with teachers through synergy at any point during the day on Friday to inquire about your student's academic progress here at LHS. Yes, these are virtual. When scheduling, please remember to do this through a computer and not your mobile device. - Mr. Freeman

The ASB and Rangel/Baxter's Leadership class would like to personally thank everyone that donated to the Canned Food Drive. We had a total of 399 items donated, just shy of 400 lbs. All proceeds were donated today to the Community Connections Food Bank in time to be given before Thanksgiving Day.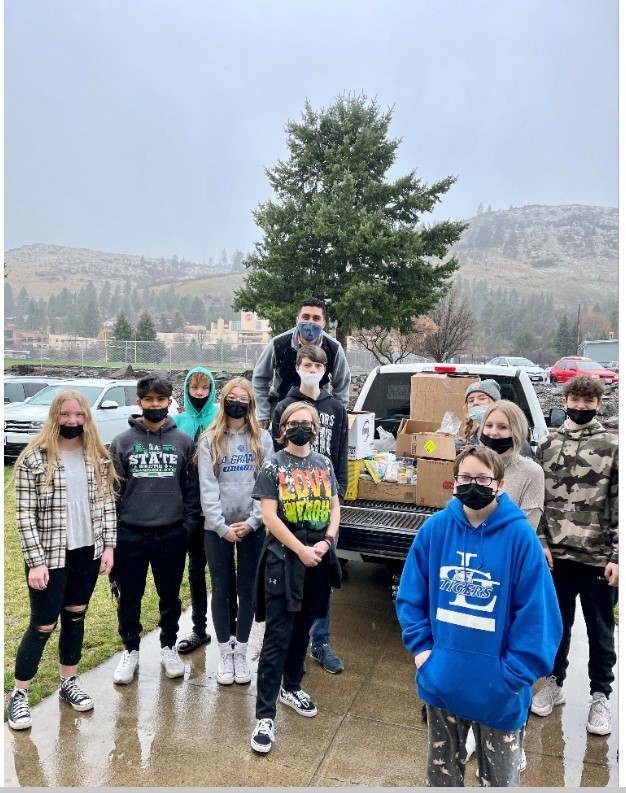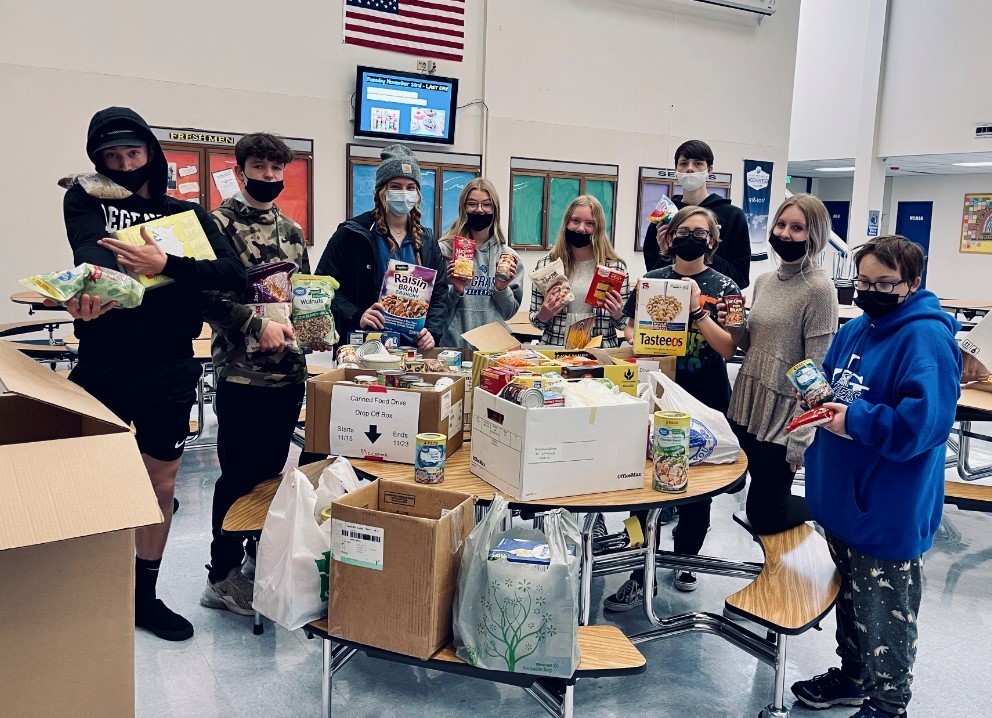 Need Help with homework? Every Wednesday from 3:15 to 4:30 in the Tiger Hub, come get help with your homework. Snacks are provided.

LA GRANDE ATHLETES SHINE GOL All League Volleyball 1st Team - Izzy Kump - Setter, Felicia Murphy - Libero, Makenna Shorts - Setter 2nd Team - Ari Myer - Offensive Hitter, Belle Near - Middle, Shelby Burgess - Offensive Hitter GOL All League Girls Soccer 1st Team - Rosie Aguilera, Susanna Durvik, Bethany Brock, Haylee McCall, Sophia Petty, Giselle Sanchez, Rylie Huddleston 2nd Team - Nora Crews, Maezie Wilcox, Lyndie Isaacson, Carlee Strand Coach of the Year - Sam Brown GOL All League Boys Soccer 1st Team - Jarom Huntsman, Lamar Langidrik, Owen Rinker 2nd Team - Carter Perry, Brady Hutchins, Brayden Sudbrock, Gage Mathson GOL All League 1st Team - Football Offensive Player of the Year - Brody MacMillan 1st Team - Center - Nick Bornstedt 1st Team - Offensive Lineman - Cole Jorgensen, Jarrett Armstrong 1st Team - Running Back - Brody MacMillan 1st Team - Wide Receiver - Jace Schow 1st Team - Tight End - Noah McIlmoil 1st Team - Kicker - John Remily Defensive Player of the Year - Cole Jorgensen 1st Team - Defensive Lineman - Cole Jorgensen 1st Team - Defensive Lineman - Jarett Armstrong 1st Team - Defensive Back - Coby Hibbert 1st Team - Defensive Back - Kaden Nelson 1st Team - Defensive Linebacker - Brody MacMillan 1st Team - Defensive Linebacker - Braden Carson 1st Team - Punter - John Remily GOL All League 2nd Team - Football Logan Williams - Quarterback Offensive Line - Ryan VanderZanden, Myer Whitmore, Running Back - Braen Carson Return Specialist - Jace Schow Defensive Line - Noah McIlmoil, Nick Bornstedt, Myer Whitmore Defensive Back - Jace Schow Linebacker - Logan Williams, Bryce Penaloza Punter - John Remily

Happy Thanksgiving! The La Grande School District will be closed from November 24th to November 26th. Have a wonderful time. See you back on Monday, November 29th.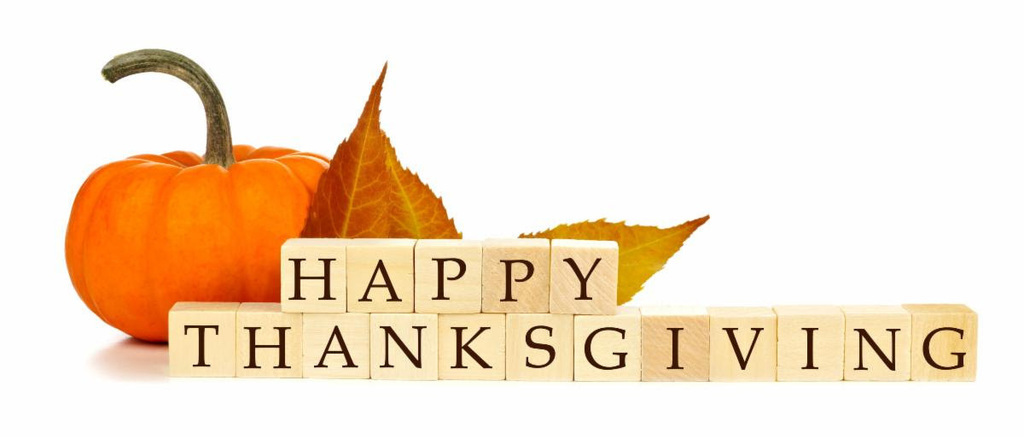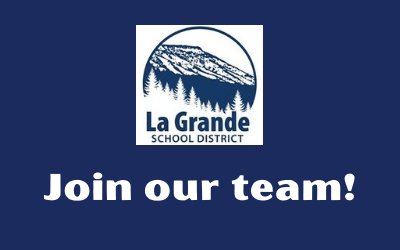 Your donations of cash, food, and gift cards will support the La Grande School District Youth-In-Transition (Homeless) Program. Thank you!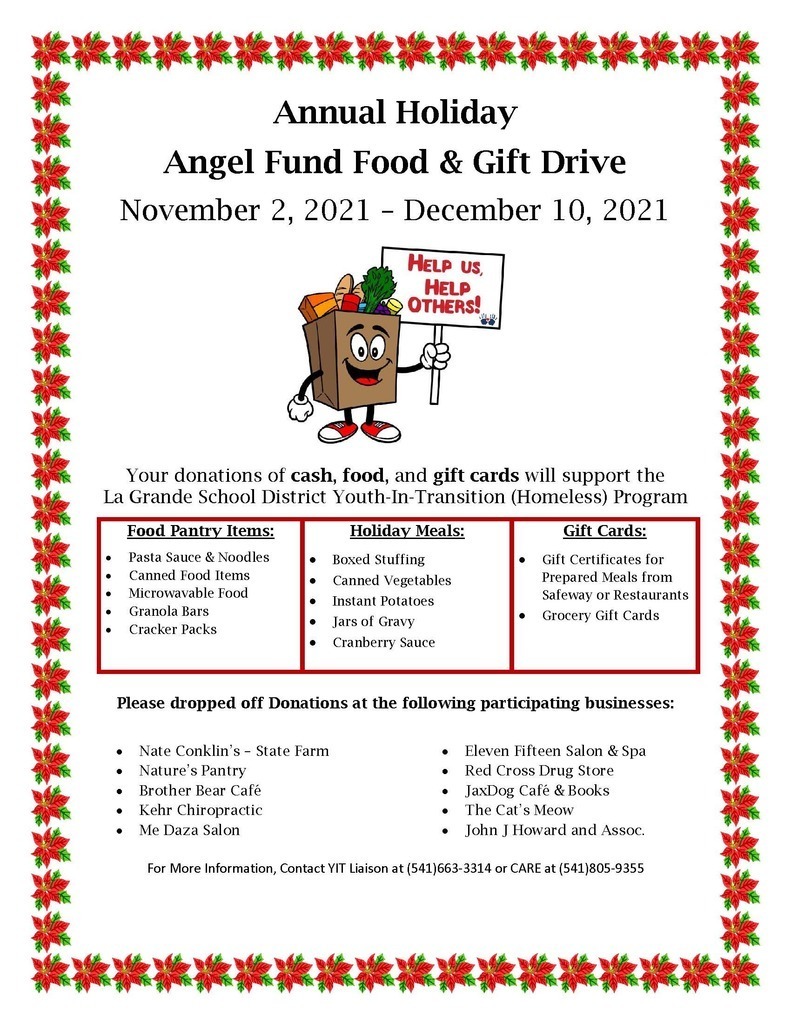 Your donations of cash, food, and gift cards will support the La Grande School District Youth-In-Transition (Houseless) Program.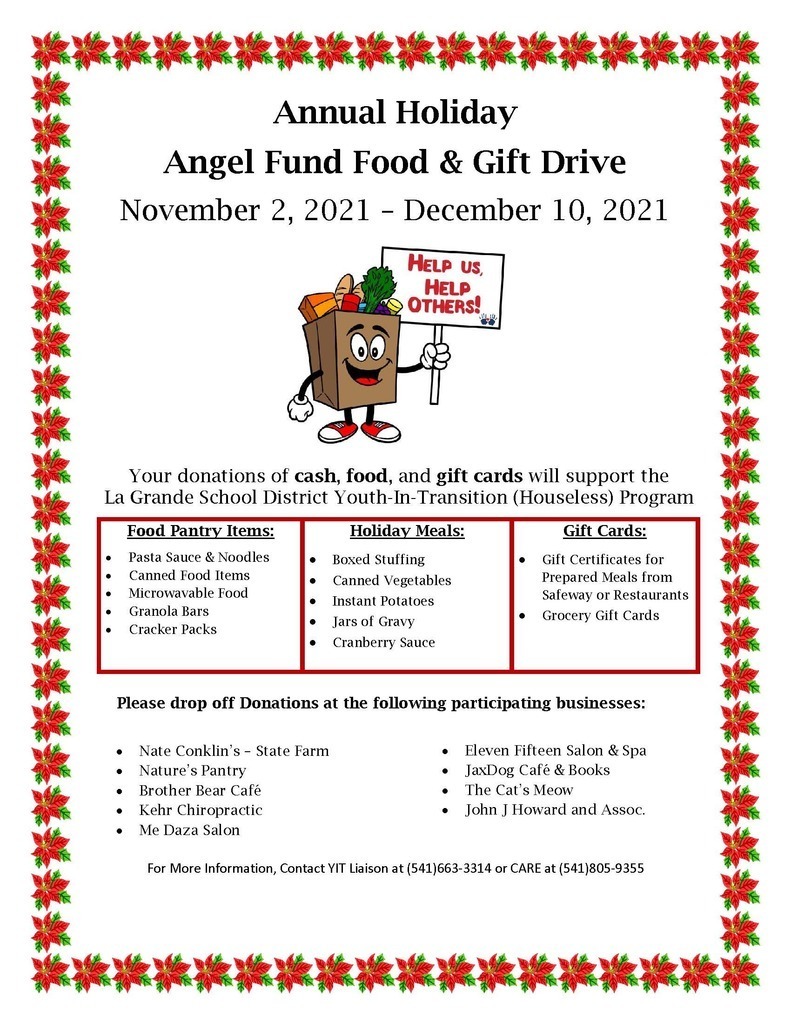 The ASB/Leadership class is doing a Canned Food drive for the following dates: November 15th - November 23rd. It would be a 2nd period class competition. The class with the most food items wins Doughnuts from Safeway! Food items allowed: shelf stable meaning, canned fruits, canned veggies, canned meats such as chicken/tuna, quick prep meals, Produce is okay but only allowed to be brought in on Tuesday 11/23. All food items will be donated to our local food bank (community connections).

Eli Cox's finished Day of the Dead Bread cooking assignment for Mr. Rangel's Spanish class.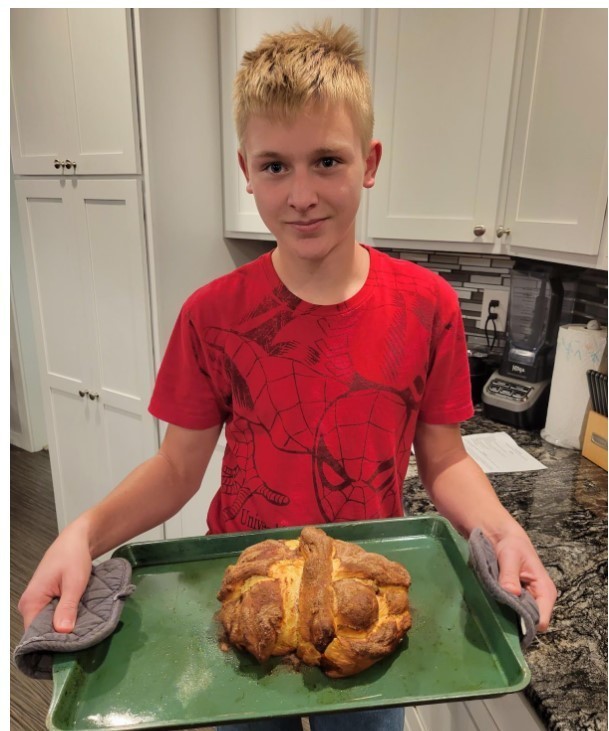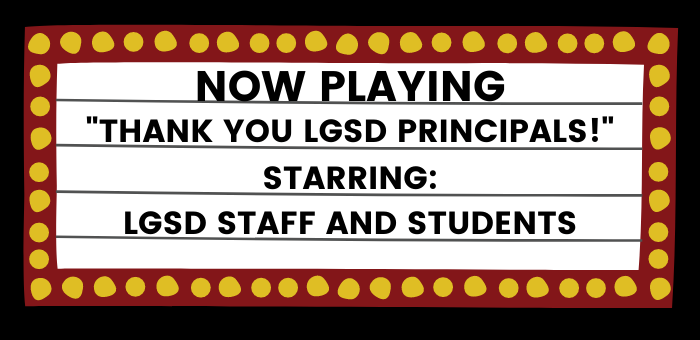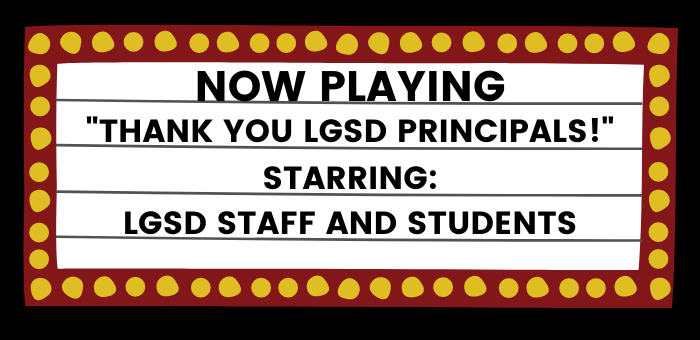 School will be closed on November 24-26 for the Thanksgiving holiday. Classes will resume on Monday, November 29. Enjoy the time with family and friends.

LHS lost and found is overflowing. Please have your student come look for their missing items in the office.

Our beginning and advanced Ag Sales teams, as well as our Job Interview preliminary contestants competed today in Baker! Thank you North Powder and Baker for hosting a great contest! Beginning Ag Sales Team - 3rd Place Job Interview finalists moving onto the finals in February: Raegan Hanna Keayra Krantz Many students placed in the top 5 in their individual contest areas. Congratulations to all students who stepped out of their comfort zones today and did a great job competing!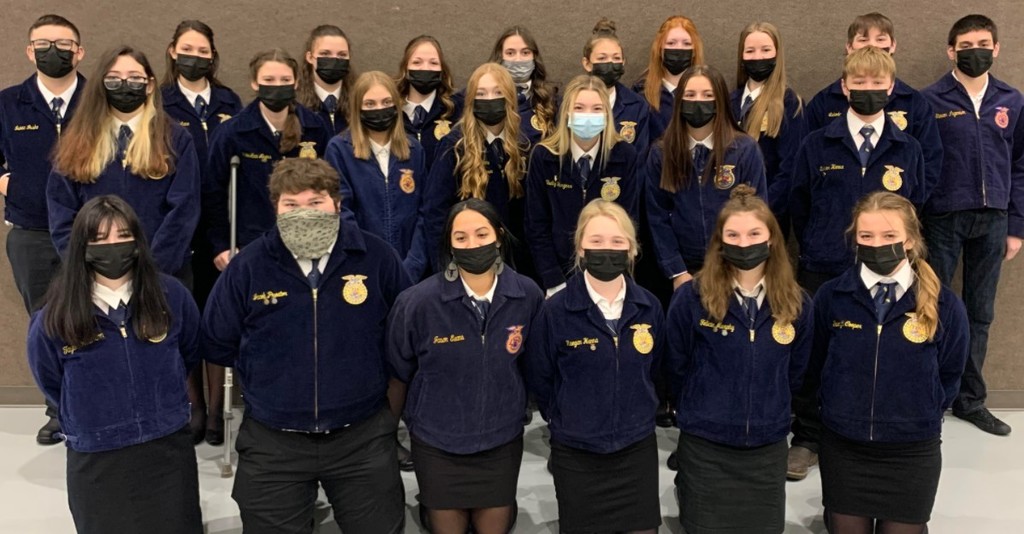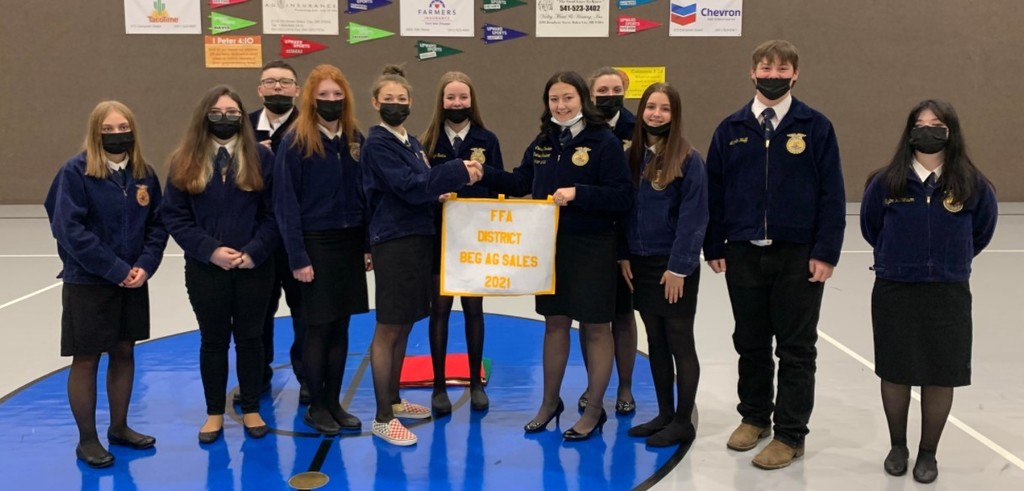 LHS Swing Dance tonight at La Grande Middle School hosted by the LHS Jazz Ensemble. Enjoy Dancing, Dessert and Great Music! Price is $10/ adults and $5 for seniors and kids. All military are free. Hours are 6-8pm

Wednesday, November 17th, LHS will be on a R.O.A.R. Bell schedule Wednesday, ROAR Lesson Schedule 9:15 - 1st bell 9:20-9:59 - 1st period 10:04 - 10:57 - 2nd period 11:02 - 11:41 - 3rd period 11:46 - 12:25 - 4th period 12:25 - 12:58 LUNCH 1:03 - 1:42 - 5th period 1:47 - 2:26 - 6th period 2:31 - 3:10 - 7th period

ASPIRE La Grande High School needs caring and dedicated volunteers like you to help local students explore career and education options after high school. ASPIRE is an engaging program that Oregon does for their students, encouraging higher education and post-high school planning for everyone and helping students reach goals that might seem impossible. Students are matched with volunteer mentors to help them explore career and educational options, choose the best fit, apply and pay for their educational choice. Multiple shifts are open and we can be flexible to your schedule. You will receive training and be provided with the tools needed to mentor students. You will have to pass a background check. If you are interested in becoming a volunteer mentor contact Kelsey Duby at 541-663-3397.


Happy Friday to our Tiger family! Now that our school district has moved into a low risk level, we will be making a few changes to our daily procedures. First, all students will now enter through the main entrance each morning, which opens at 8:10 a.m. daily. Please do not drop off students prior to 8:10. If students have appointments to work with individual teachers, they can enter earlier for teacher access. For those eating breakfast at school, this will be served in the Commons beginning at 8:00. Our kitchen has switched to hot meals for both breakfast and lunch, both served in our Commons. Hand hygiene and masking are still required and important mitigations for preventing illness, especially this time of year. Thank you for helping us make it to this point in the year with lower risk to students, families, and staff. We appreciate your cooperation in continuing this trend. Have a great weekend, and we'll see you Monday!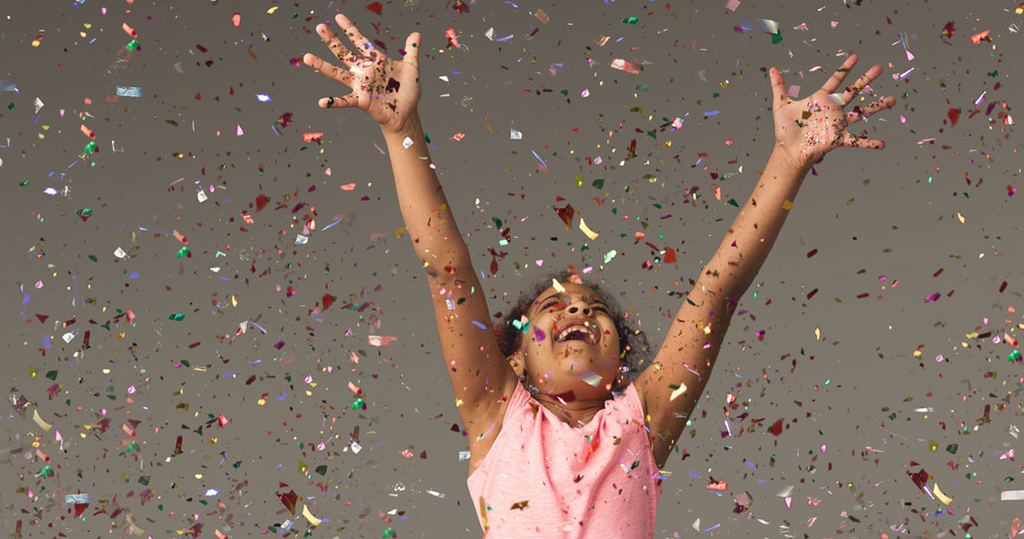 Winter sports first day of practice is this Monday, November 15. All athletes need to register online. Students are not allowed to practice without completing all registration forms. You must have a current OSAA physical on file at the high school. Instructions to register online are included below.