Mark your calendars for the LHS Blood Drive - October 20th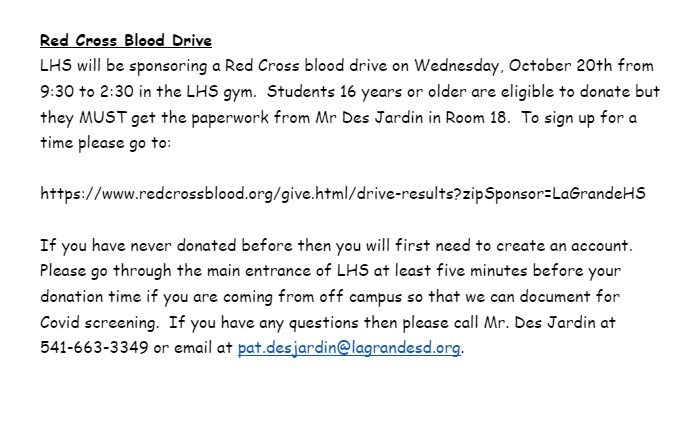 ATTENTION SENIORS!!!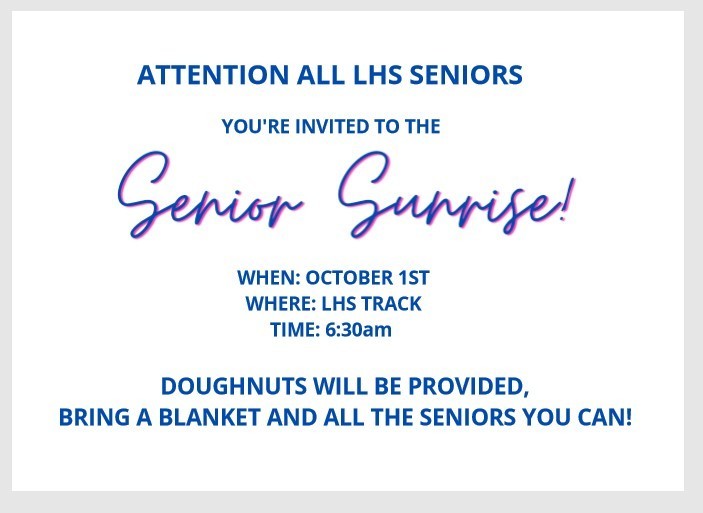 Growing Meaningful Connections with Your Child is tomorrow night, Tuesday, September 28th, at 6:30 pm - virtually or at LHS. See this flyer for more details!
https://5il.co/ziy6

This Thursday, September 30, is picture retake day. If you never had your picture taken at registration, you will be called down to get an ID picture taken. There is no charge for a student ID, but all students are expected to have one. If you would like to order pictures, picture packets are available at the front office or you can order packets online.

This Wednesday, September 29th, we will have a R.O.A.R. lesson. The bell schedule is as follows: 9:20-9:59 - 1st period 10:04 - 10:57 - 2nd period 11:02 - 11:41 - 3rd period 11:46 - 12:25 - 4th period 12:25 - 12:58 LUNCH 1:03 - 1:42 - 5th period 1:47 - 2:26 - 6th period 2:31 - 3:10 - 7th period

Please check out the following message in regards to our COVID-19 absence protocol from Assistant Principal Eric Freeman:
https://youtu.be/N7lNXwhD7ns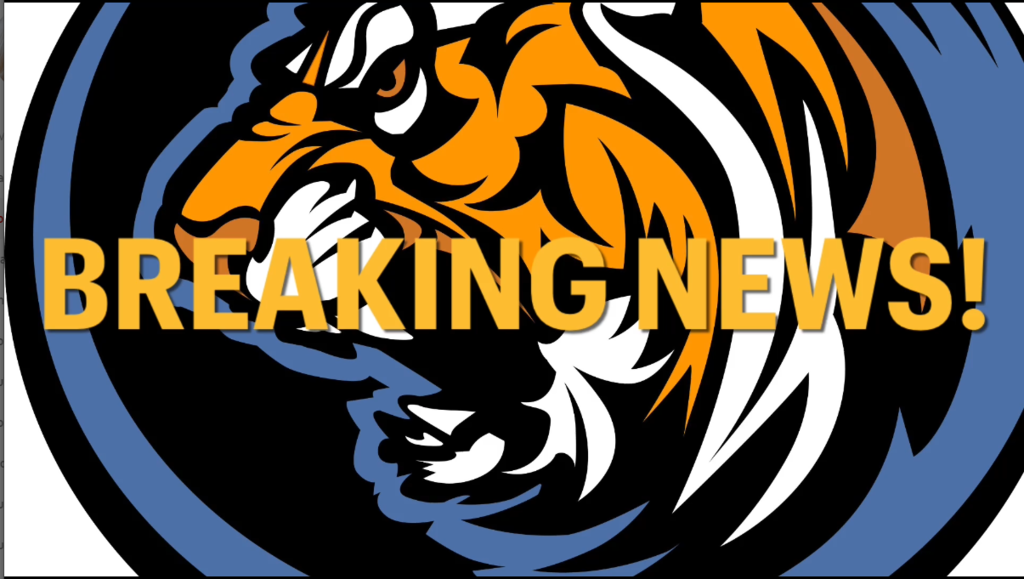 Varsity Football hosts Estacada HS tonight. Game time is 6:00 pm

All parents of seniors are invited to attend the first senior parent meeting October 28th in the LHS Auditorium. Important senior information will be shared at this meeting.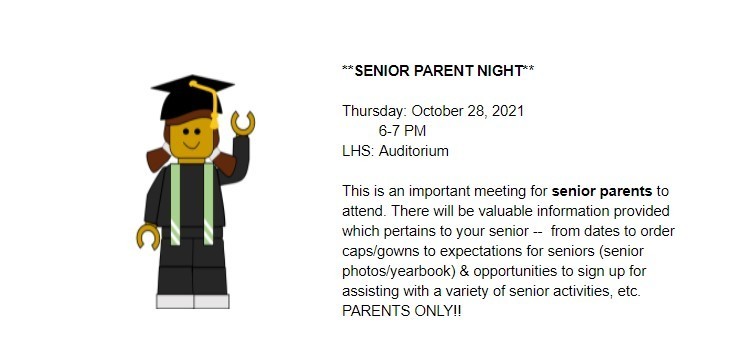 Picture Retake day will take place at LHS on Thursday, September 30th. Photographers will be here all day. If your student did not have a picture taken at registration, they will be asked to have a picture taken for a student ID. There is no cost for the student ID. If you would like to order school pictures, there will be order forms on retake day or you can order pictures online.

PSAT Testing - Saturday, October 16 Who: Junior students who are considering college or technical schools. This is the ONLY way to qualify for National Merit and an excellent opportunity to see where your ability falls relative to other students in the nation. When: Saturday, October 16th. Doors open at 7:30 AM and testing will begin at 8:00 AM. Where: LHS Long Hallway (Old LHS Building). Enter through the wire gates next to the main entrance. How: Register with Mrs. Schelin in the main office. Cost is $20 that will be billed to your account after the test. If you fail to show up for the test after registering you will be billed $4. Mrs. Schelin will hand you a Student Guide which gives more information on National Merit and a practice test to help you study. More: On test day bring number two pencils, a calculator, snacks, and your photo id (Driver's license or ASB card). Dress in layers as the testing room can be either too hot or cold depending on the body type.

If you ordered and paid for school pictures at registration, your photos are ready to be picked up in the front office. Do not come during class time. Before or after school or during passing periods only

Home Games this week: JV Football hosts Nyssa on Wed. 9/22 - 4:00 pm - Community Stadium Varsity Boys Soccer hosts Baker on Wed. 9/22 - 6:30 pm - Community Stadium Varsity Football hosts Estacada on Thursday, 9/23 - 6:00 pm - Community Stadium

We have Tiger masks. Baseball is selling tiger masks for $10.00 each. They are available at the LHS front office. The two sizes available are Small/Medium and Medium/Large.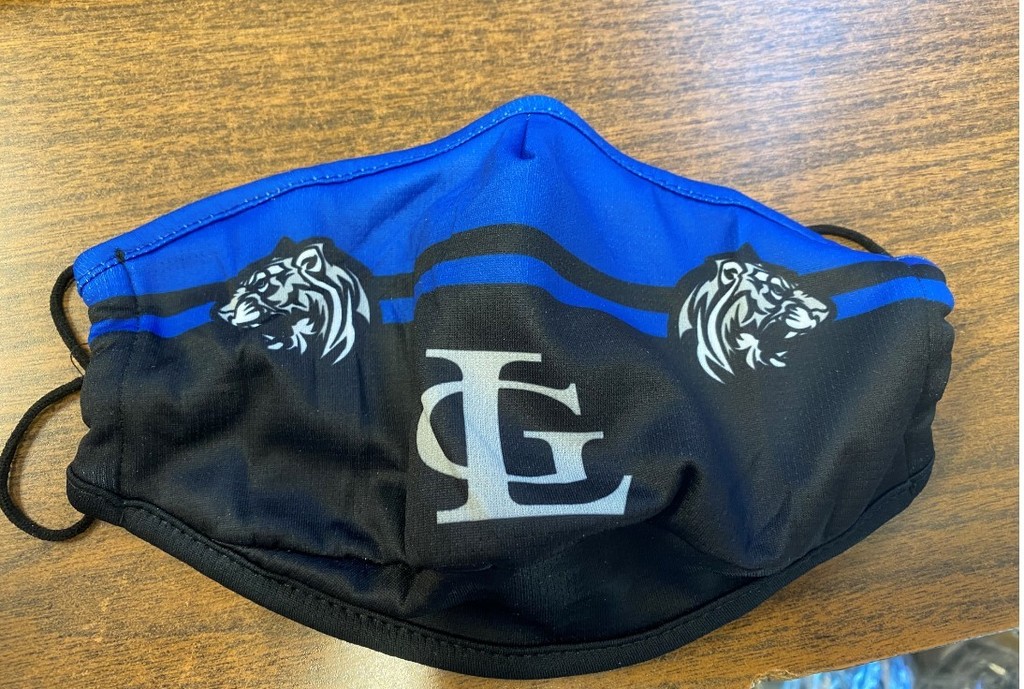 Varsity Football hosts Vale HS tonight at Community Stadium. Game starts at 7:00 pm. Masks are required.

There have been some changes to the Volleyball schedule.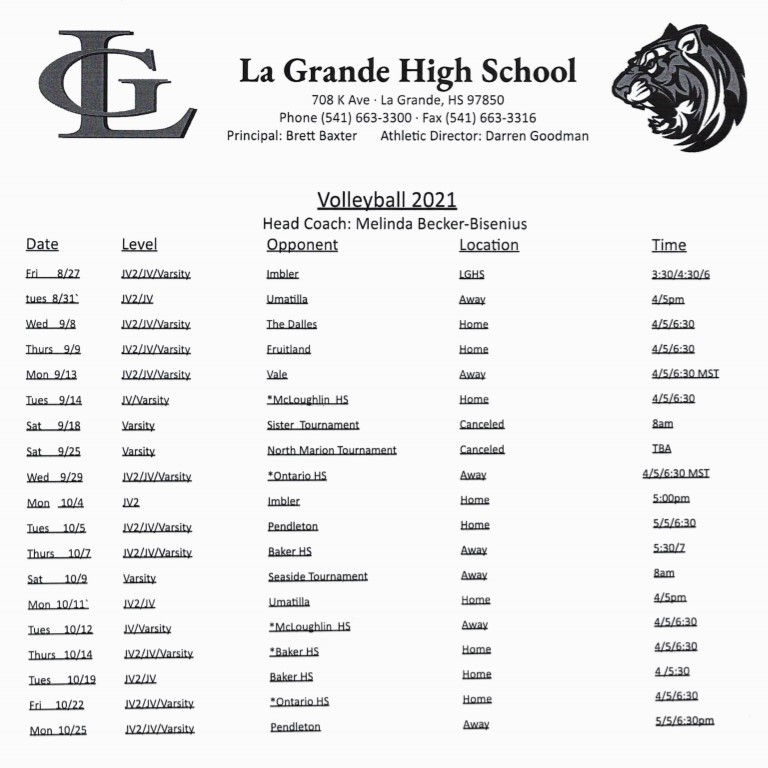 The JV Football game today in Vale starts at 5:00 pm MST.

The JV2 & JV Volleyball game scheduled for today has been cancelled.

Volleyball hosts McLoughlin HS today starting at 4 pm Varsity Boys Soccer hosts Pendleton today at 5 pm Masks are required at all sporting events

Need a little jump start to your morning? Head over to the "Taste of the Tiger" at the J House. Also open during the lunch hour for that midday treat.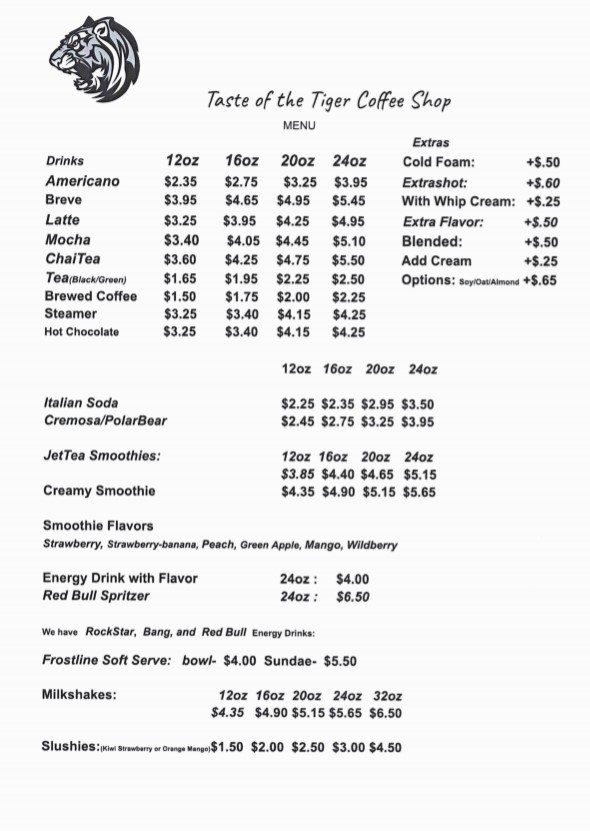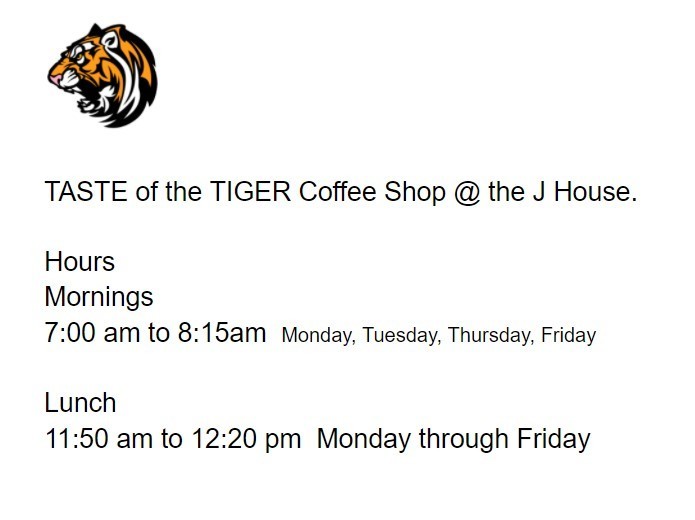 Remember, Wednesdays are late start. Classes begin at 9:20 am.