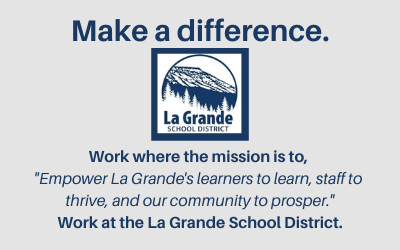 SPORTS ON THURSDAY, MAY 27TH; JV Boys basketball will start at 4:30 pm Varsity Boys basketball will start at 6:00 pm

Graduation tickets need to be picked up prior to graduation on June 5th. In order to comply with our space/capacity limitations in the gym each graduate has been allotted 5 tickets. Tickets are available for pickup at the front office.

The girls basketball game originally scheduled for this Thursday, May 27th, has been cancelled. The boys basketball games will still take place. JV boys will play at 3:30 pm and the Varsity boys will play at 5:00 pm.

There is no school on Monday, May 31st. It is Memorial Day. When school resumes on Tuesday, June 1st, we will be on the 1-4 period schedule.

Baccalaureate is TOMORROW, Wednesday (May 26th) at 6 PM in the auditorium. This is your first REAL opportunity for a photo op with fellow graduates in caps/gowns!! You get to choose your walking partner and begin the graduation celebration with a non-denominational blessing from several different local churches. The ceremony begins promptly at 6. Please arrive @ 5:45 with your cap/gown ON! Yes. Wear any medals, cords, etc. that you have acquired. See you there

Graduation tickets are now available in the LHS office. Each graduate is allowed 5 tickets. Commencement tickets will be required for each guest and need to be presented at the door prior to admission for the ceremony.

The Senior Awards ceremony will be live streamed tonight May 25, 2021 at 6:00PM. You can access the live stream at LGSD.TV

LHS Softball will play at North Marion HS on Saturday, May 22. Game time will start at 1:00pm


BASEBALL UPDATE FOR THE WEEKEND Where: North Marion High School in Aurora, Oregon When: 4:00pm, Saturday, May 22nd. Who: We will be the visiting team playing against #1 seed Hidden Valley Fans: Will be allowed. We'd love to have all the support we can at the game.

You could be the lucky graduate that wins this car. You must be present at the Senior All Night party to be eligible. Make sure you are signed up by checking in at the LHS front office.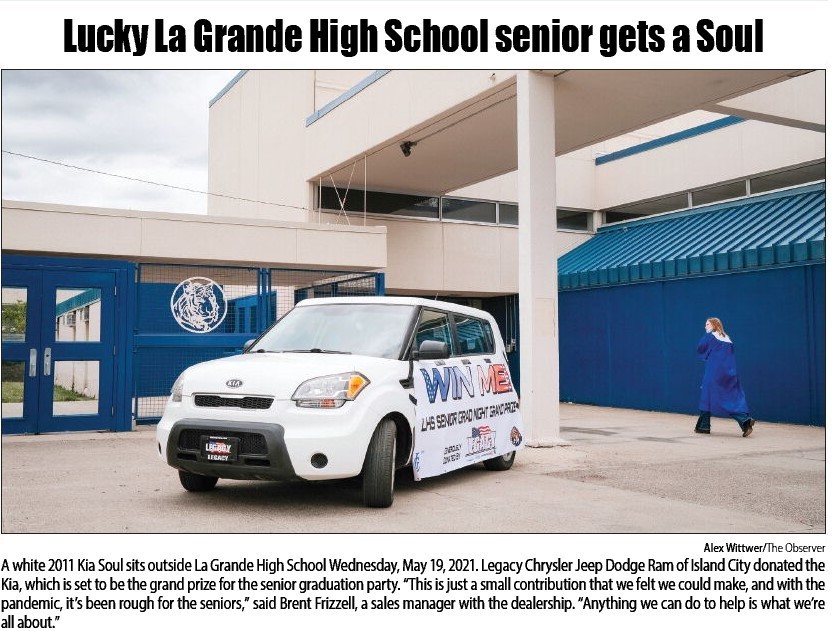 Update on the FFA Drive Thru BBQ - there are still about 50 tickets left. Anyone interested in getting dinner tonight, please call the LHS office and we will get you fixed up.

JV Boys and Girls Basketball games that were scheduled for next Tuesday, May 25, have been cancelled.

LHS Softball will play Henley High School on Thursday, May 20. The game will be played at Sisters High School. Game time is at 4:00 pm

Baseball will travel to The Dalles on Wednesday, 5/19 LaGrande vs Banks 4PM on 5/19/21 The game will be played at Bob Williams Field. Bob Williams Field is located at 1801 E 12th St, The Dalles, OR 97058

Parents and families, we are pleased to have invited senior students and their 2 guests join us tonight at the 6th annual LHS Pathways Completer Banquet. Those who have earned Pathways Endorsements have received invitations to attend at 6pm in the La Grande High School Auditorium. We need to remind all attendees that all safety protocols, including masks and physical distancing, will be expected. Please help us maintain the focus on the accomplishments of our graduating seniors by following the guidelines still in force for school activities.

The Varsity Girls basketball game this Thursday, May 20, vs Nyssa will start at 4:00 pm. Each LHS player gets to have 4 members attend the game. Please check with Coach Wright to get your name on the guest list. Face masks are required.

Seniors can pick up their yard signs in the front office. We have quite a few that have not been picked up yet.