BASEBALL UPDATE FOR THE WEEKEND Where: North Marion High School in Aurora, Oregon When: 4:00pm, Saturday, May 22nd. Who: We will be the visiting team playing against #1 seed Hidden Valley Fans: Will be allowed. We'd love to have all the support we can at the game.

You could be the lucky graduate that wins this car. You must be present at the Senior All Night party to be eligible. Make sure you are signed up by checking in at the LHS front office.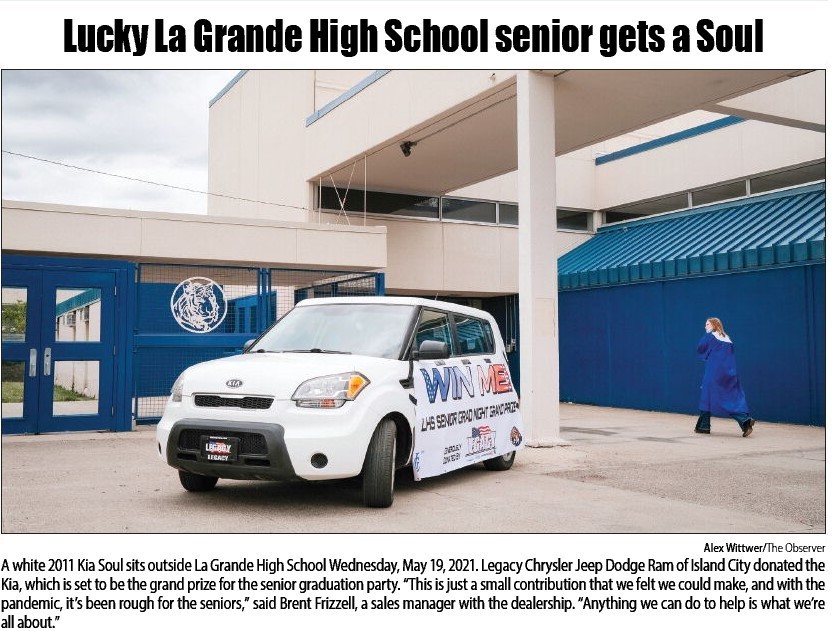 Update on the FFA Drive Thru BBQ - there are still about 50 tickets left. Anyone interested in getting dinner tonight, please call the LHS office and we will get you fixed up.

JV Boys and Girls Basketball games that were scheduled for next Tuesday, May 25, have been cancelled.

LHS Softball will play Henley High School on Thursday, May 20. The game will be played at Sisters High School. Game time is at 4:00 pm

Baseball will travel to The Dalles on Wednesday, 5/19 LaGrande vs Banks 4PM on 5/19/21 The game will be played at Bob Williams Field. Bob Williams Field is located at 1801 E 12th St, The Dalles, OR 97058

Parents and families, we are pleased to have invited senior students and their 2 guests join us tonight at the 6th annual LHS Pathways Completer Banquet. Those who have earned Pathways Endorsements have received invitations to attend at 6pm in the La Grande High School Auditorium. We need to remind all attendees that all safety protocols, including masks and physical distancing, will be expected. Please help us maintain the focus on the accomplishments of our graduating seniors by following the guidelines still in force for school activities.

The Varsity Girls basketball game this Thursday, May 20, vs Nyssa will start at 4:00 pm. Each LHS player gets to have 4 members attend the game. Please check with Coach Wright to get your name on the guest list. Face masks are required.

Seniors can pick up their yard signs in the front office. We have quite a few that have not been picked up yet.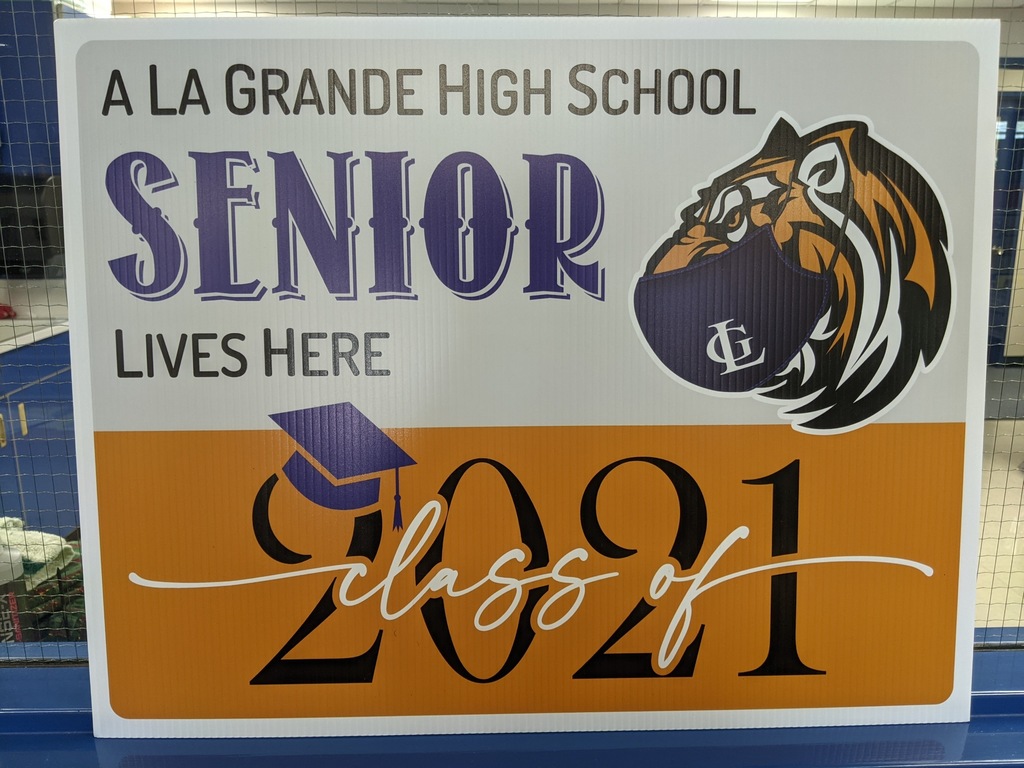 The LHS graduating Class of 2021, in compliance with CDC/ODE graduation ceremony guidelines, will be requiring tickets for admission to the actual graduation ceremony in the gymnasium. Each graduate will receive a total of 5 tickets for admission. If the graduate does not need all 5 tickets, extra tickets can be given to other graduates who may need to have more than 5 tickets. Commencement tickets will be required for each guest and need to be presented at the door prior to admission for the ceremony. The graduation ceremony, in its entirety, will be live streamed at
https://www.lagrandesd.org/page/lgsdtv
for family and friends who cannot attend. Ticket distribution date/times will be announced early next week.

Boys Soccer News!!!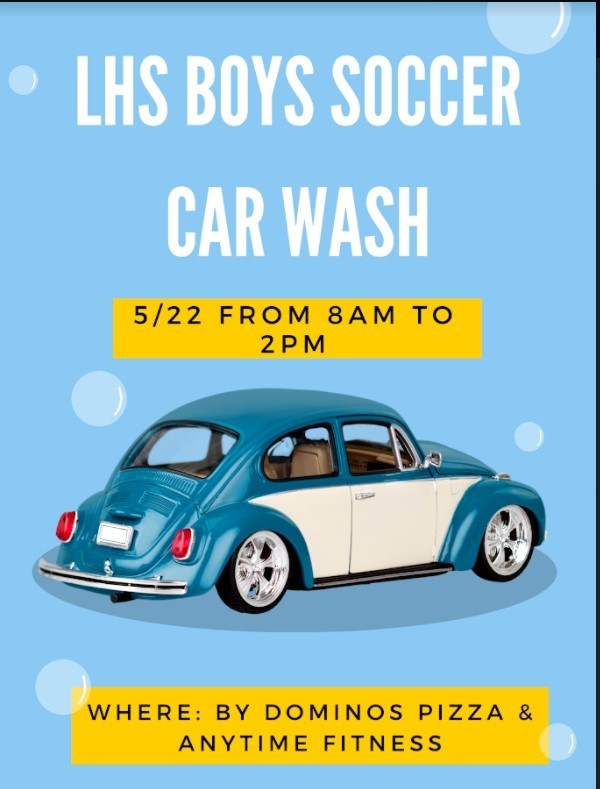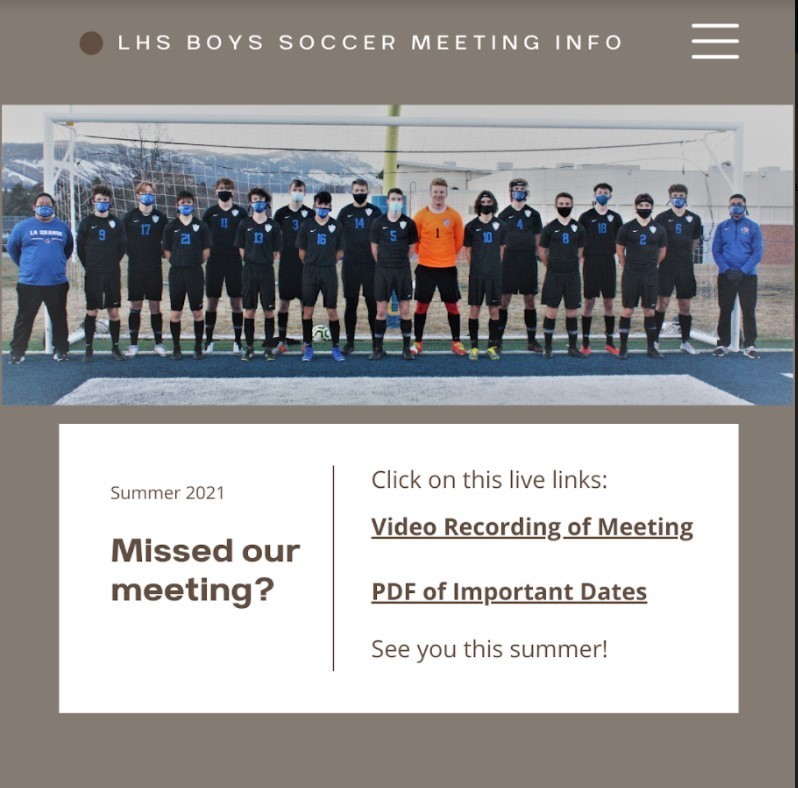 Softball will travel to Umatilla tomorrow, 5/18/21. Game time is at 5:00pm. Masks must be worn at the Umatilla HS softball field.

Seniors- make sure you are planning on attending the Senior Grad Night Party. Sign up in the front office. LOOK WHAT YOU COULD WIN!!! You must be present to win though.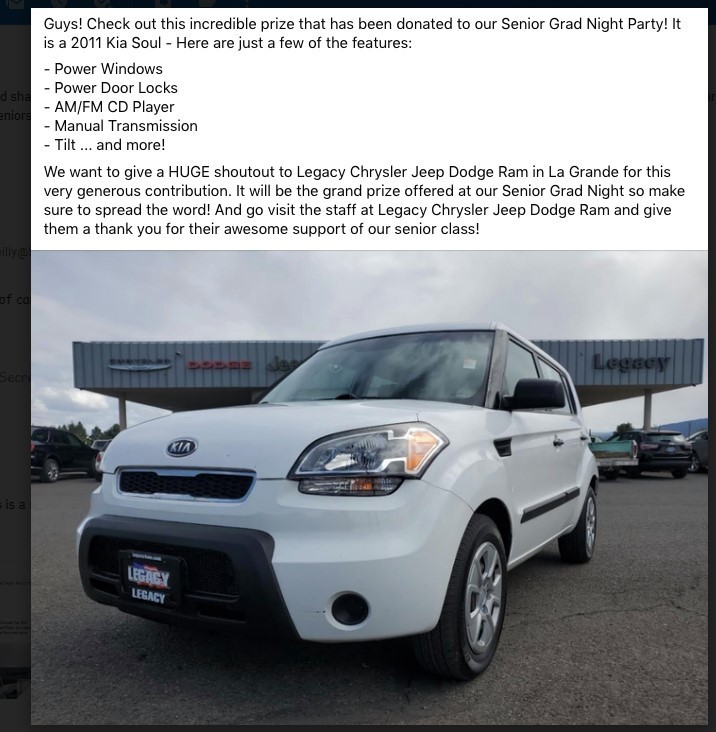 On Wednesday, May 19, the School Based Health Center at LHS will provide a Pfizer Covid19 vaccine clinic for students. Appointments are available during the school day, between 9:00 am and 12:00 pm. Students age 12 and older are eligible to receive this vaccine. If parents are unable to make the appointment, students age 15 and older are able to sign their own consent. Students ages 12-14 must have a parent/guardian signature, giving permission to receive this vaccination. Arrangements can be made to obtain this signature if a parent/guardian is unable to attend the appointment with their student. To schedule an appointment, call Cindy at 541-663-3330 or stop by the SBHC located in room 22 at LHS. You may also schedule by calling Tracy at CHD at 541-962-8800. There is no cost associated with this vaccine.

The CDC's new guidance will not impact schools this school year. All individuals on our schools campuses must mask and physically distance. Yesterday, Governor Brown addressed how the new guidance will be implemented in Oregon and stated, "Nothing is changing for schools this school year, and I expect education staff and students to continue to wear masks and physically distance, as outlined in our Ready Schools, Safe Learners guidance." Thank you for your cooperation.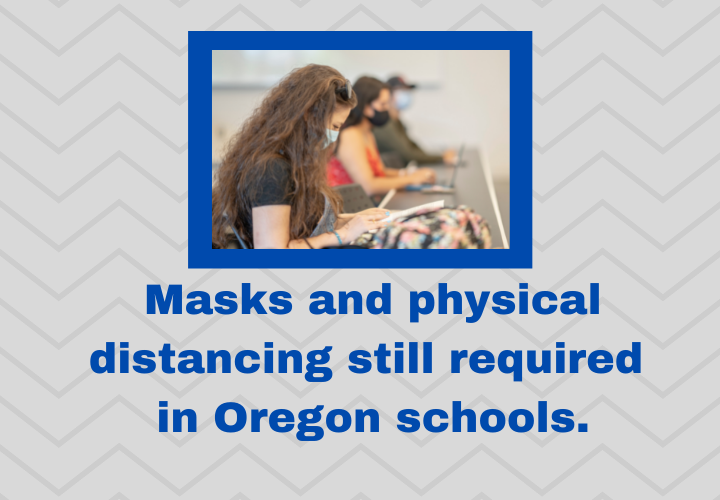 Herff Jones will be in the LHS commons from 10:30-1:30 on Friday, May 14th, to distribute cap/gowns to seniors who ordered them. Be sure to stop by and pick up your order!

Lifetouch Photography will be here (in the LHS Commons) on Wednesday, May 19, from 7 AM until 5 PM in hopes of getting grad photos for every graduating senior in the Class of 2021. The seniors will have their photos taken wearing their cap/gown/regalia. For teams returning from a competition (golf/tennis), please try to arrive back here @ LHS in time for senior competitors to get their grad photos taken in the LHS Commons (wearing their cap/gown). For teams leaving for a culminating activity on that date (track/field), please allow seniors to have their grad photos taken prior to departure on that date. Lifetouch will be ready to take photos at 7 AM, and they will remain here at LHS until 5 PM. Hopefully, that window of time will allow ALL graduates to get this important photo taken. This photo will be in the yearbook, the class composite of grads, and available for purchase by families. Normally, this occurs at grad practice; however, that is not possible this year. This is the ONLY date that works for Lifetouch.

The cap/gown delivery for the seniors will be delayed until Friday, May 14th. There has been a shipping problem, which is currently being resolved. Thank you for your patience and understanding. Contact Mrs. Moore with questions.