LHS Families - NO SCHOOL THIS FRIDAY, APRIL 9TH. All students, A - Z, will return to school on Monday April 12 and attend periods 5-8. On Tuesday, April 13, all students will attend periods 1-4. We will continue with this alternating schedule until the end of the school year.

We are allowing 80 students to attend the varsity football game this Friday, vs. Baker HS. We will allow 40 students to sign up today and 40 students tomorrow. First come first allowed in. You cannot sign up during class time. If your name is not on the list at game time, you will not be allowed into the stadium. Masks are required and you must social distance. Sign up is in the front office.

There are only 2 days left to order your 2020-21 yearbook! You don't want to miss the opportunity to get this year's yearbook as it is sure to be a memorable keepsake for years to come.


La Grande School District Town Hall Meeting - April 1, 2021 View on LGSD.TV or La Grande School District Facebook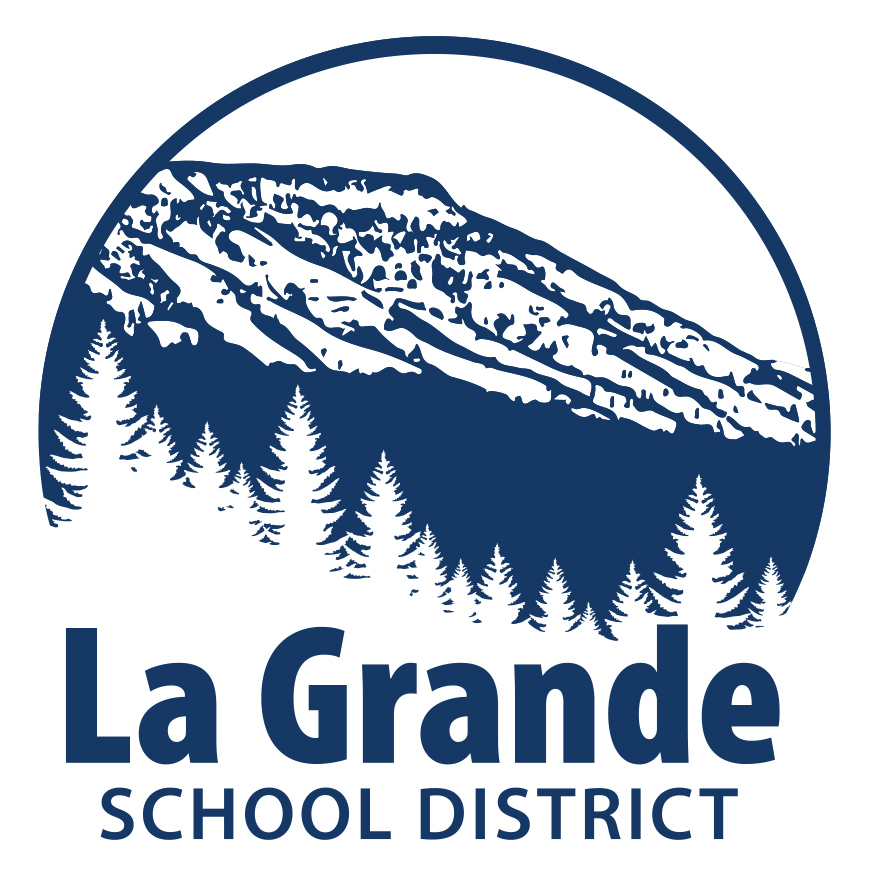 The JV Girls soccer game on Saturday vs. Nyssa has been changed to a Varsity Girls soccer game. JV Girls will not play. The game will take place at the La Grande Middle School field. game starts at 11:00 am

Mrs. Titus took her plant science class out today. The students were busy at Central Elementary helping with some landscaping on campus. The sun is shining and the kids are happy to get out and do some work.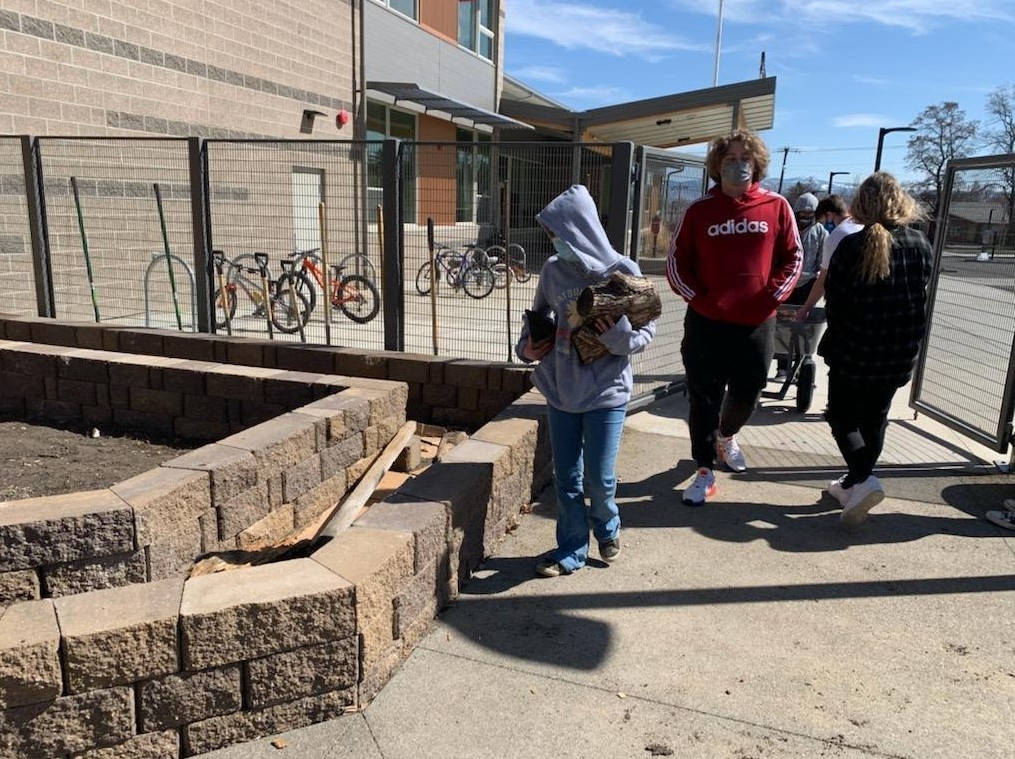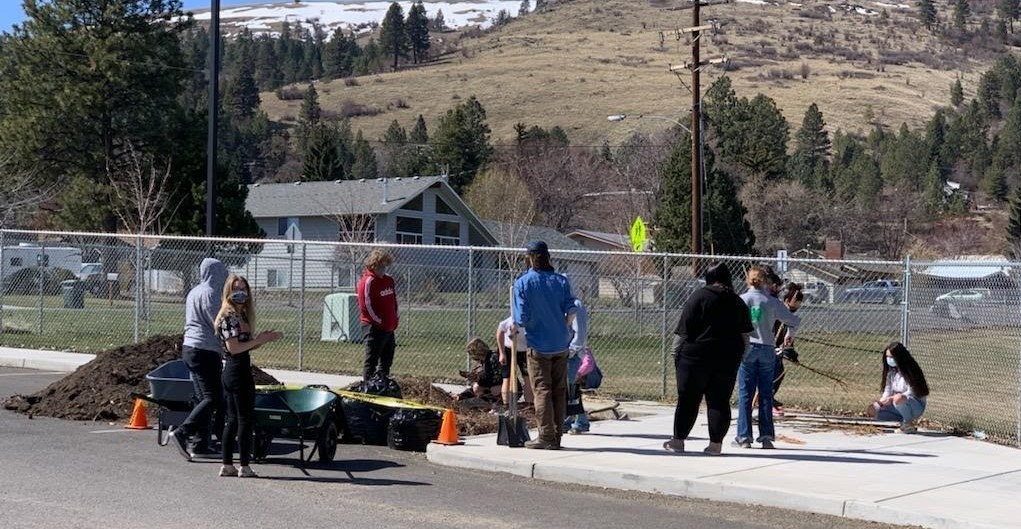 The Varsity Girls Soccer game vs. Baker HS that was scheduled for Thursday, April 1st has been cancelled.

Hello LHS families! We hope spring break was a rejuvenating experience for each of you and that you've had an opportunity to check in with your child's teachers during conferences. Quick reminder - we'll have our B cohort of students attending tomorrow, Wednesday, March 31.

JV Girls Soccer vs. Nyssa this Saturday, April 3rd, will take place at 11:00 am at the LMS field.

Season 3 sports start on Monday, April 5th. Please sign up online for the sport that you are interested in participating in. Season 3 sports include golf, tennis, track and field, baseball and softball. If you have questions, please call the front office at 541-663-3301. To register online go to:
https://or-lagrande.intouchreceipting.com/signin

Varsity Boys Soccer on Tuesday, 3/30 vs. Hermiston HS is now starting at 6 pm at EOU. Varsity Boys Soccer on Wednesday, 3/31 @ Baker HS will start at 4:00 pm

We have some game time changes for today: Girls Varsity Soccer is at 2:00 pm at EOU Boys JV Soccer starts at 5:00 pm at LMS Field JV Football will start at 4:30 pm at EOU

Parent Teacher conferences start tonight. If you have not signed up, please follow the instructions listed here. ParentVue Conference Sign Up Instructions: Login to ParentVue Select the student you are scheduling a conference for Click on the "Conference" tab from the left-hand list of options Then select "Parent Scheduled Conferences" in the upper right-hand corner Select a 15-minute time slot from the options available Your child's teachers will reach out to you with a Google Meet Link to join at your selected conference time. Please be sure to sign up for each conference by March 18th. Thank you for supporting your student throughout this time! Time slots will fill up fast, so sign up on ParentVue as quickly as possible to ensure you reserve times that will work for your family. Teacher Virtual Meeting 15 Minute Time Slot Availability: March 29th March 30th 5:00 - 8:30 PM 7:30 - 11:30 AM 12:00 - 3:30 PM

Attached is the current Cross Country schedule.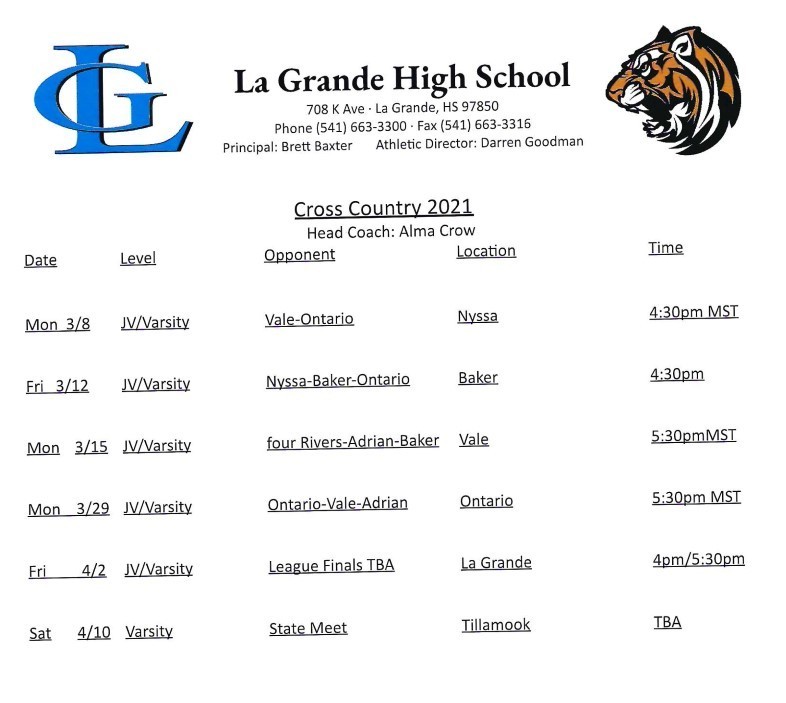 Varsity Football travels to Vale this Friday, March 19. Vale is allowing two guests per player to attend the game. All parents will get a remind message allowing them to sign up for the game. If unable to attend, you can access the link to live stream the game.
https://www.nfhsnetwork.com/schools/vale-high-school-vale-or

Check out LHS Athletic events live on LGSD.TV


JV Football hosts Vale today starting at 4:00 pm. The game will be played at EOU.