GAME TIME CHANGE: Start time for JV Football in Baker has been changed to 4 p.m. Please help spread the word.
Pink Game: Tomorrow, October 4th, will be Volleyball's Pink game! Come cheer these athletes on as they play Pendleton! Games start at 4 p.m.
Soccer Pictures: Please help spread the word. Boys Soccer will have team pictures on Thursday, October 6th, and Girls Soccer will be having their team pictures on Friday, October 7th. Your student athlete can pick up a picture packet in the office or with their coach. Or you can purchase pictures online at
www.pictureswithclass.com
. The online access code is: 0095931SP2.

LHS Families - In recent months, we have had many reports and complaints from LHS neighbors and parents about students congregating in LHS and Central Elementary parking areas in the evenings and late at night, with details of illegal behavior and disrespectful loud music, dangerous driving, yelling, confrontations with citizens, etc. Students identified as being participants have been directed to leave when found here by school officials. The problem continues. Beginning immediately, and in accordance with LGSD Board Policy KGB -
https://policy.osba.org/lagrande/KL/KGB%20D1.PDF
, "Persons having no legitimate purpose or business on district property or violating or threatening to violate the above rules may be ejected from the premises and/or referred to law enforcement officials." No student or individual will be allowed to park, drive, or loiter on district property unless authorized by school officials. In cooperation with local law enforcement, those found on district property without an authorized purpose will be directed to leave immediately and cited for trespassing if they do not comply. We strive to be good neighbors, and the disrespectful and illegal actions being witnessed are not in accordance with those efforts. We ask all parents/guardians to help us in this matter by helping children make healthy choices. Respectfully, LHS and LGSD Administration
It's FFA BBQ time! FFA Drive-Through BBQ Fundraiser!! Thursday, October 27 5:30 - 8 PM Location: La Grande High School (708 K Ave) Price: $13.00 per ticket Meal includes: Pulled Pork Sandwich Baked Potato Chocolate Chip Cookie Coleslaw Come support your local FFA chapter by going to:
https://or-lagrande-lite.intouchreceipting.com/
To complete purchasing your tickets please include on the memo line: 1. Phone Number 2. How many tickets are being purchased 3. FFA Members Last name who you are buying the tickets from Example: 000-000-000, 3 Tickets, Akers
High School Football Pictures will be on Thursday, September 29th, at the start of practice. Coaches have hard copy packets for ordering as well.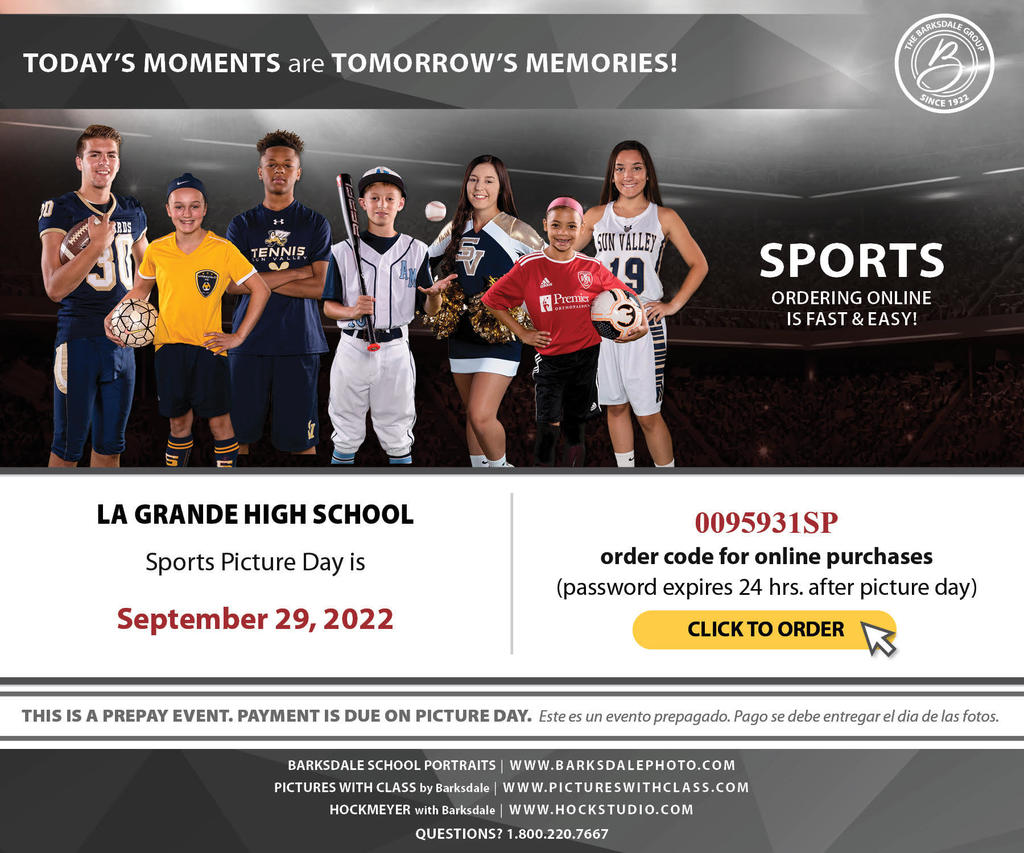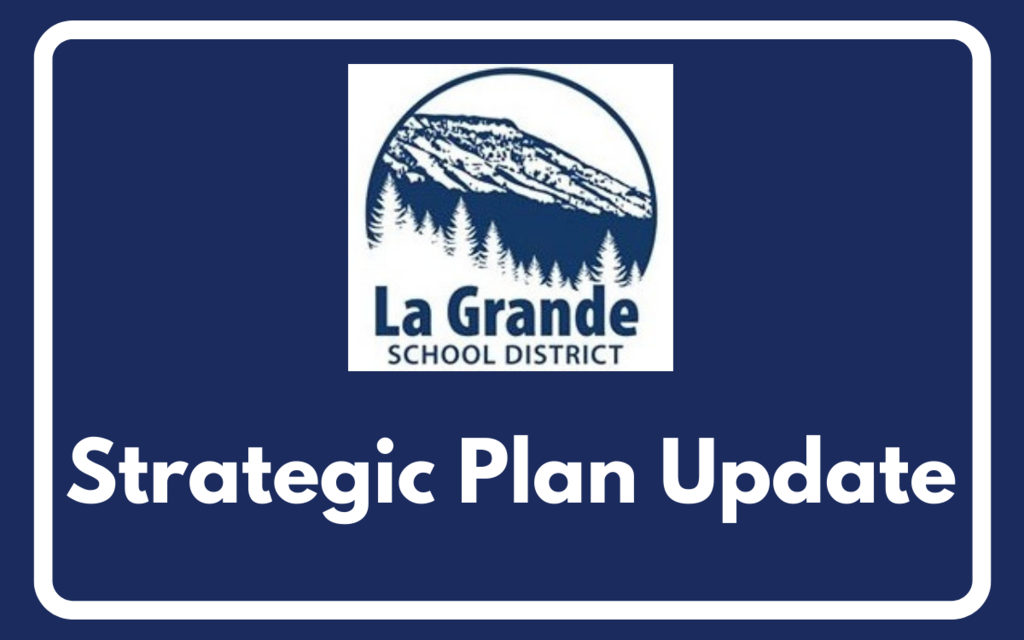 CANCELLED: There will be no JV Girls Soccer Game today in Baker. Varsity will begin at 4 p.m. as planned.
CANCELED: Todays Volleyball games in Ontario have been cancelled due to lack of officials. Please help spread the word.
Friday, September 23rd, is wear school colors day. Wear your blue and white and show your school spirit! Help us spread the word.
Welcome new Special Education Teacher at La Grande High School, Bekah Titus!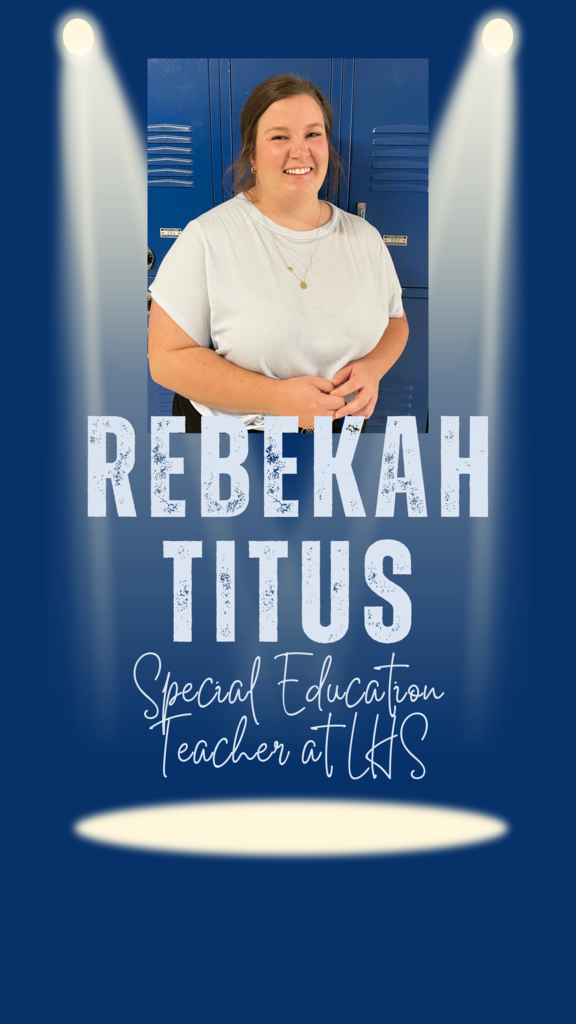 Come help us celebrate the State Champion Wrestling team and Individual State Title winners, Friday, September 23rd! Rings will be presented at halftime of the Varsity Football game against Molalla starting at 6 p.m. at Community Stadium!
CANCELLED: Today's JV Football game at Heppner has been cancelled due to lack of officials.
La Grande School District welcomes Austin Hawks to La Grande High School Austin will be the Agriculture/Science Teacher as well as our FFA Advisor. Welcome, Austin!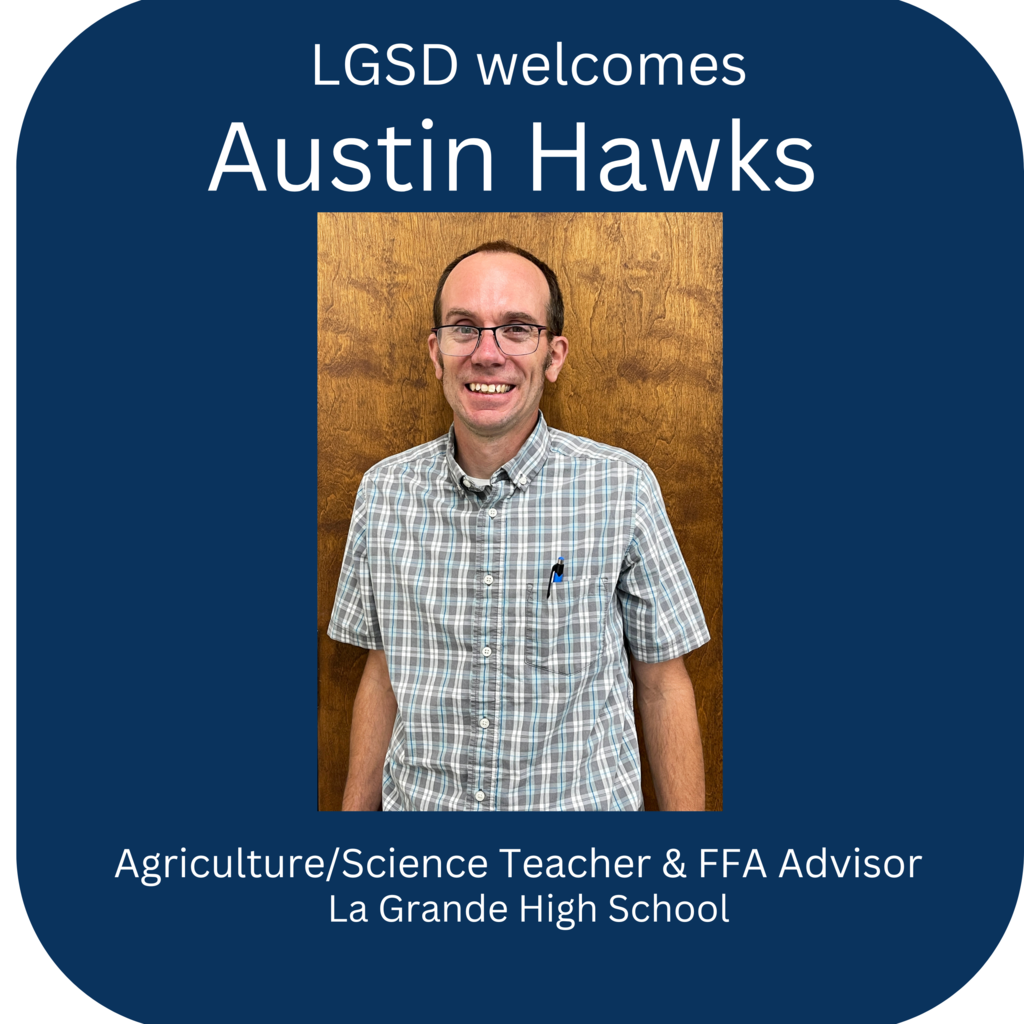 Picture Proofs are in! If your student had pictures taken at registration and you would like to see their proof and/or get the new picture day ID to order, please have them come to the High School office and we will get them their proof and order ID.
GAME TIME CHANGE: Tonight's Varsity football game time in Ontario has been moved up! The game will now start at 6 p.m. MST, 5 p.m. PST.
Free Breakfast & Lunch for All Students 09-01-22 La Grande School District will continue to provide FREE breakfast and lunch to all district students for the 22-23 school year. The meals are available at all schools without the need for parents to complete any paperwork. The district is providing the meals for the second year through CEP, Community Eligibility Provision. According to Michelle Glover, Business Director at LGSD, the district qualified for the program before the pandemic based on the percentage of students qualifying for free and reduced lunch. During the 21-22 school year, free meals were provided through pandemic-relief programs, but it was year one of CEP, which Glover said the district had to use last year. The good news, however, is that CEP is for a total of four years, so two years remain after this one. "Especially considering recent rises in food prices, we are pleased that the district can continue to provide free meals for all our students, because children having consistent nutrition contributes to student success in classrooms," Glover said. For questions about free meals, please contact your child's school. ###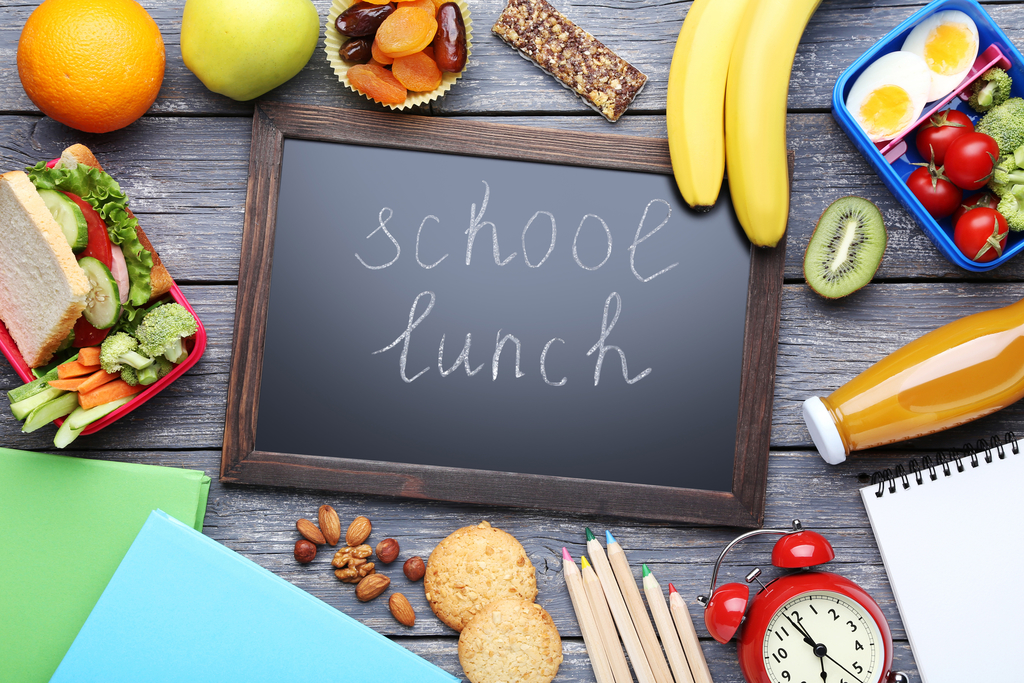 Back to School Rally 08-24-22 While students were busy picking out new school backpacks and school supplies, their teachers and everyone else who supports their learning at La Grande School District were also getting ready for back to school. On Wednesday, August 24th, all employees of the district gathered in the high school auditorium for a Back to School Rally. This annual gathering before the new school year starts is a great opportunity for all staff to reconnect, meet new employees, get information from the district and get ready for the year together. "Our Rally is always a great, uplifting event when all LGSD employees gather and get motivated for the new school year. Being together to share district planning and goals is a good start for serving students," said Scott Carpenter, Assistant Superintendent of LGSD. At the event, Carpenter gave a short overview of recent district summer camps, which served more than 1,000 students, and highlighted other district programs and plans. School principals introduced their building staffs. Shawn Brooks, fourth grade teacher at Central Elementary, shared some words about how he works to make his classroom successful by ensuring it's a safe place where students trust him and the environment in order to learn most successfully. Finally, Braden Carson, valedictorian of the La Grande High School Class of 2022, spoke. Carson, who also won nine state championships during high school, talked about being positive, optimistic and kind, plus working hard and having a "no problem" mindset to resolve issues. He said his teachers at LGSD showed him that teaching is a lot more than educating kids, it's inspiring kids and using their strengths to reach them. "You inspired me to do my greatest work," Carson said. ###