The SAT for Saturday, December 5th has been canceled.

COULD YOU USE A $30 AMAZON GIFT CARD? Return your library books. Any student that returns their library books by December 15th will get their name entered into a drawing for a $30 Amazon gift card. The winner will be drawn at the end of the day on December 15th. There will be a plastic tub located at the front door on K Avenue for easy drop off.


The LHS Boys Soccer Team is selling beanies and face masks. $15 a beanie and $10 per face mask. All proceeds go towards their gear and equipment.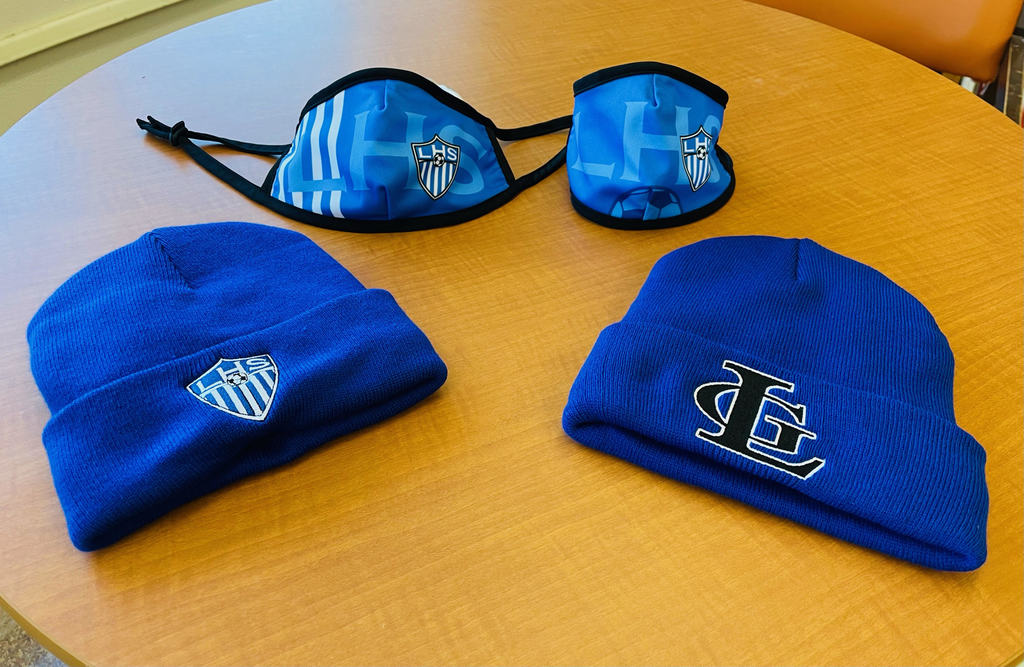 La Grande High School will hold parent/teacher conferences this Friday, December 4th. The conferences will be virtual and can be scheduled through your Parent Vue account. Conference times are 7:30 am - 11:00 am and 11:30 am - 3:30 pm. If you have questions regarding your Parent Vue account, please call Victoria Andrews at 541-663-3310. This will be the last conference time before the end of the semester on January 22,2021.

Winter sports practice sessions are postponed until further notice. Please check here for updates. There will be NO practices the week of Nov. 30-Dec. 4.

Attention Seniors and Senior Parents. We are gathering Senior Slideshow Pictures. What we need from you: A senior picture and a baby picture (we need these from every student). If you have any group pictures of students at school, events, etc. send those as well. We really want to get group pictures of everyone and don't want to leave anyone out so please send those if you have them. We'll be working with the yearbook as well to get those. Please send your pictures to Nicole McConnell (
nicole.mcconnell@lagrandesd.org
). Please also include the name of your student in the email so I can organize and keep pictures straight. Thank you!

Hello Tiger Parents! This is a friendly reminder that December 4th conferences are right around the corner! -December 4th, 2020 from 7:30am-11am and 11:30am-3:30pm. -Conferences can be scheduled with individual teachers through your ParentVue account.

The La Grande School District currently has openings for a Para I at Greenwood Elementary and a Para II at La Grande High School. Please see our Employment Opportunities page on our website at lagrandesd.org.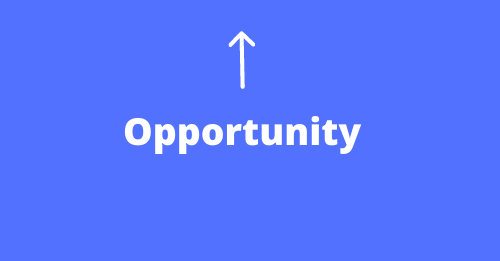 LHS wishes you a wonderful Thanksgiving next week! We encourage you to make time to share your gratitude with those around you. Classes resume on November 30th.

There will be no school the week of November 23-27 . Classes will resume on Monday, November 30th. Enjoy your Thanksgiving!

LHS is excited to be able to pass along this news. Our very own Logan Paustian was selected to the 2020 NHSBC All Region 8 Team as one of 4 catchers on the 22 man roster. He was also only 1 of 3 Oregon baseball players to get this recognition (Mick Abel from Jesuit and Dylan MacLean of Central Catholic were also selected). Region 8 consists of OR, CA, WA, AK, and HI. Selections were made from scouting reports and college and high school coach recommendations. Here is a link to the NHSBCA website that has the All Region and All American teams listed: NHSBCA All-American and All-Region 2020 Lists So proud of this young man and all he has done. Tiger Proud!!!

These stickers are available to purchase at every school in the La Grande School District as well as the district office located on Willow Street. The cost is $5.00 each and the money will be donated to Colton, Molalla and Estacada counties.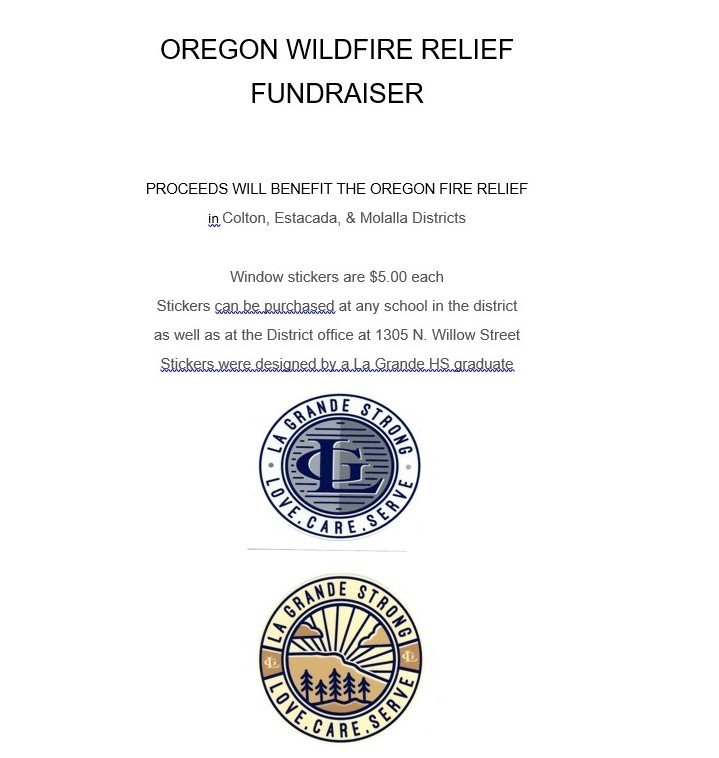 No athletic practice sessions will take place this week. Practices will start after the Thanksgiving break.

If you ordered pictures on picture retake day they are ready to be picked up at LHS. If you had pictures taken and did not order, you can pick up that packet to order online.

All practices for the winter season have been postponed until Dec 1, 2020. That is the Tuesday after Thanksgiving break. This overrides the winter sports practice schedules sent out earlier this week.

As colder weather approaches, LGSD will use the following methods to communicate school closures or delays: Phone - monitor your for a call or text La Grande School District Website - updates will be posted to the District website Facebook/Twitter - updates posted to District social media La Grande SD - the new App on Thrillshare Radio Announcements Please visit the following link for more information:
https://www.lagrandesd.org/page/inclement-weather-school-delay-closure-information

GIRLS BASKETBALL PRACTICE SCHEDULE FOR 11/16-20/2020 We are going Monday, Wednesday, Friday from 3:30-4:30. Time will change after that but that is our schedule for next week.

WRESTLING PRACTICE STARTS TUESDAY, NOVEMBER 17TH Wrestling will begin next week on Tuesday, November 17 @ 3:30. Plan to meet on the wrestling deck to check-in at 3:20 p.m. What to bring: Mask, wrestling shoes, water bottle, shorts, sweatshirt and t-shirt. Make sure to dress for the weather after practice. No locker room or showers at the school.

BOYS BASKETBALL STARTS MONDAY, 11/16 We will be starting boy's practice on Monday, November 16th, 2020 @ 5:30 in the LHS gym. Everyone is welcome to come and participate. Also, please make sure you have your physical and paperwork complete.